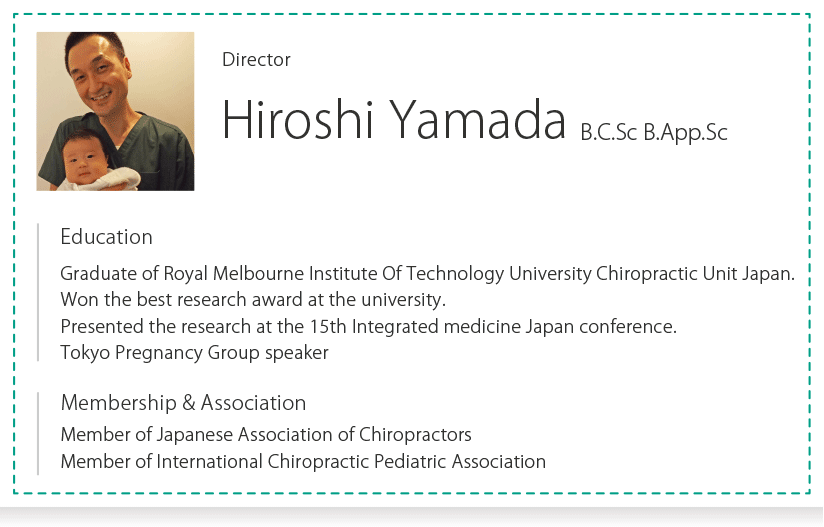 Technique
Activator Method, Applied Kinesiology(Applied Kinesiologist, International College of Applied Kinesiology Australasia) Functional Neurology, Switched-on kids method, Soft Tissue Technique (Including Myofacial release etc)

Our Chiropractic Treatment

As human beings, maintaining a properly aligned skeleton is crucial to our well-being. Keeping the spine (which protects the spine nerves) free of distortion is critical to ensuring that the brain's messages are transmitted precisely throughout the body, allowing us to adapt to our environment. At our clinic, we partner our patients in tracking the causes of skeletal (spinal) distortions that arise from habitual movements, work environments, pregnancy and other aspects of life. We strengthen nerve regulatory function with gentle approach which can apply from newborn baby to eldery people. We touch each vertebra, and see the transmission of nerve. Then adjust it to be more comfortable and appropriately balanced. We also see every joints (wrists, elbows, shoulders, hips, knees,ankles etc.) and do the adjustment. To improve and maintain good body balance, we discuss your lifestyle. We will advise you some exercises or suggest to change your habits which cause your body distortion.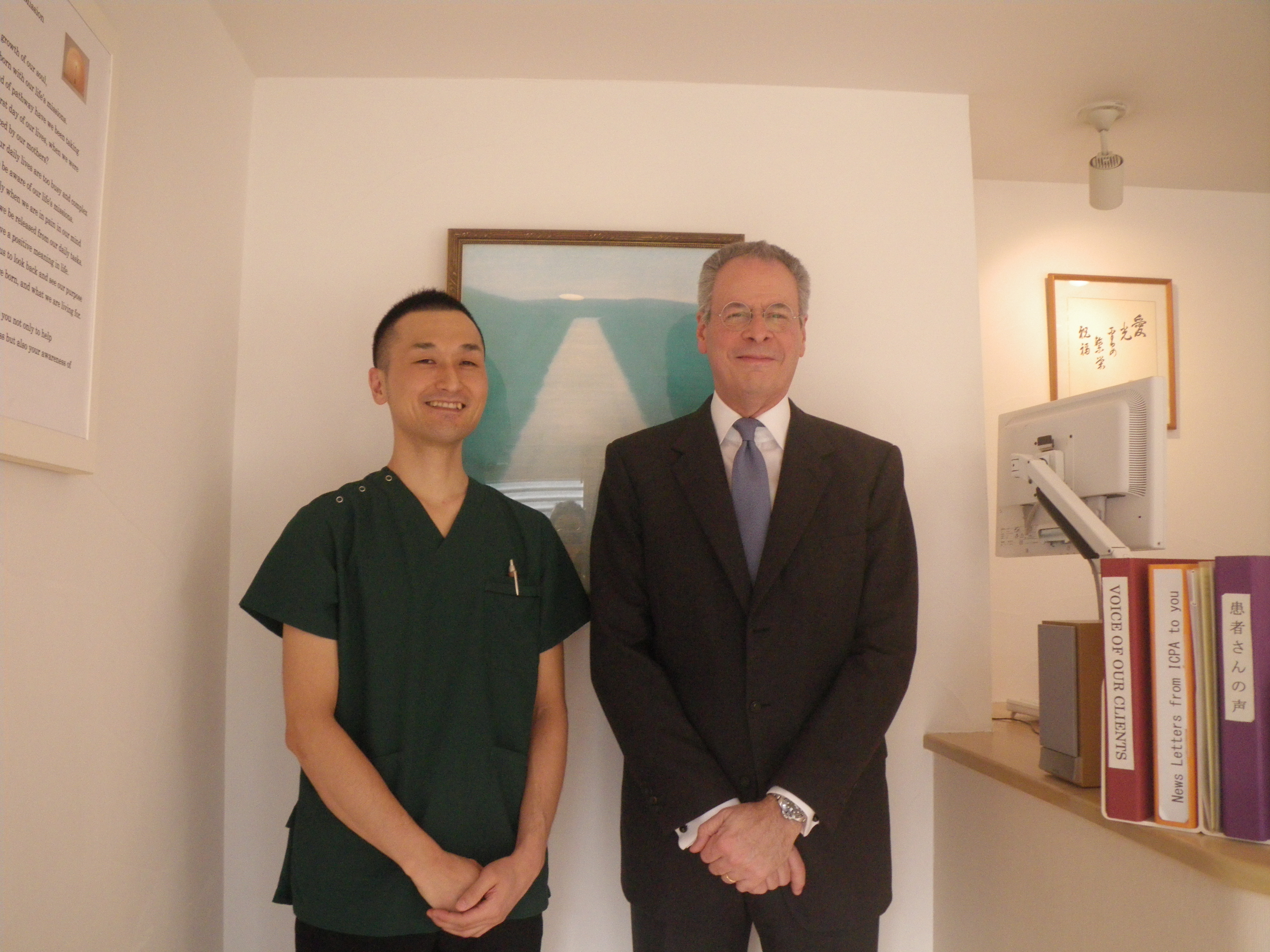 With ambassdor of Brazil Mr.Andre Correa do Lago. He has taken my treatment regularly since 2015-2018. Chiropractic is defined as a health care profession by WHO.

The conditions
These are the conditions we frequently see at our clinic.


Low back pain ( Acute・Chronic)

Sciatica

Symptoms from disc herniation(Lumbar,Cervical and Thoracic)


Case report: Lower Back Pain and left thigh pain from Lumbar Disk Herniation at L1/2, L2/3

Numbness /pain on your arm or hand

Numbness/pain on your leg or foot

Back pain

Neck pain

Shoulder stiffness

Frozen shoulder

Headaches

Joints pain(Hip,Knee,Elbow,etc.)

Pain / Adjustment after surgery

General fatigue

Maintain good Health or prevention

Autonomic nerve imbalance


Receptionist can take care of your child during mother's treatment.

Low back pain,Neck pain during pregnancy period


Case report : Left Lower back pain during the pregnancy (29 weeks)

Breach presentation

Pelvic adjustment during and after pregnancy period

Coccyx pain

Upper back stiffness

Difficulty in breast feeding(Mastitis)

Carpal tunnel syndrome

To prevent or recover from flu





No "cracking" adjustment. I gently adjust your children's spine.


Release the stress on spine from birth

Developmental disorders

Digestive problems

Excretion problems(constipation, diarrhea)

Respiratory problems

Ear aches

Sports or play injury

Supporting healthy growth and strong immune system

Spinal disorder


Specialise in Spinal disorder
Orthopedic doctors refer their patients with spinal disorders. If you want to recover from your symptoms in natural way, we can help you. Please feel free to ask Dr.Hiroshi about your condition.

Pregnancy & Birth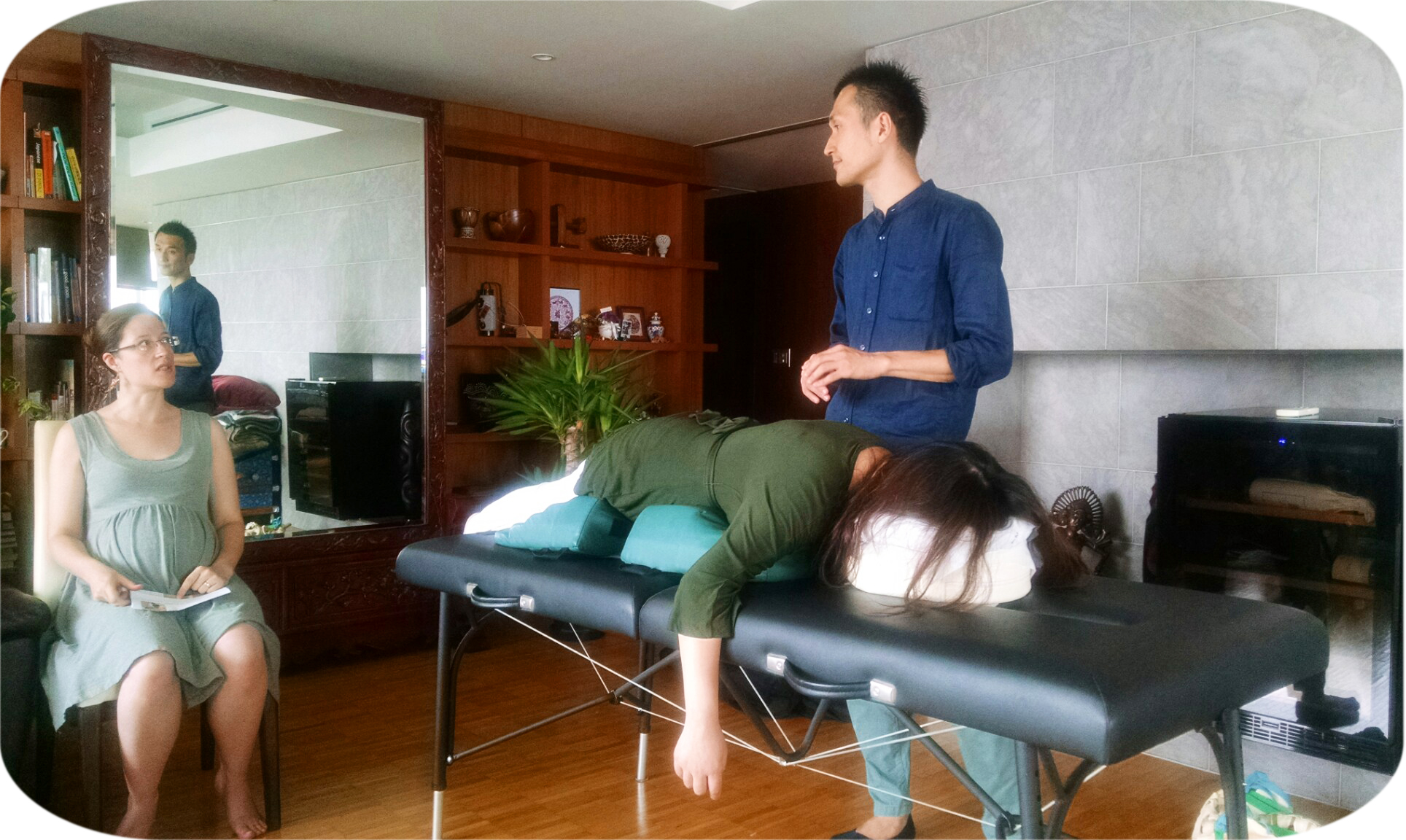 Specialise in Pre and Post Natal problem
Chiropractic care during pregnancy is vital to the normal physiological function for both the mother and baby in pregnancy and birth.
Aiiku Hospital( Minatoku) and Gynecology Doctor's Office refer their patients to us in order to release back pain in pregnancy and birth. Dr.Hiroshi is Tokyo Pregnancy Group speaker since 2013. At our clinic Dr.Hiroshi gives a speech every month about "the pregnancy from point of view from Chiropractic" for free. Please feel free to join.
The benefit to take chiropractic treatment during pregnancy
1. Maintaining a healthier pregnancy
2. Controlling symptoms of nausea
3. Reducing the time of labor and delivery
4. Relieving back, neck or joint pain
5. Preventing a potential cesarean delivery
-From American Pregnancy Association